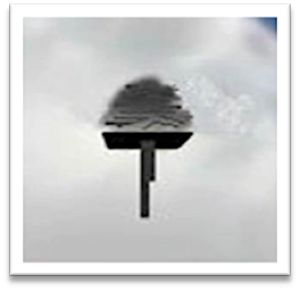 Synopsis: On 09 Sept 2011, at approximately 1900hrs, a couple traveling on Route 32 from Washington, DC to Baltimore, MD saw "a strange craft" they could not explain. Initially, the couple believed the craft was an array of balloons tied together on a flat platform. According to the couple, the craft's appearance initially reminded them of "large Mickey Mouse ears". As the couple got closer to the craft, however, they could clearly see it was not a balloon because the craft was floating level and not bobbing or wobbling. In an effort to avoid a traffic accident, the couple decided to exit Route 32 via the 14a ramp. Once off the ramp, they stopped their car on the Little Patuxent Parkway and monitored the craft as it floated across the highway about 100 feet above them. The craft continued to travel west for five minutes until it was too far away for the couple to continue monitoring it. The couple provided the following description of the craft: The craft was moving very slowly and silent; was flat on the bottom; had a bunch of square protrusions based on the platform; the protrusions were arranged in a manner that made it impossible to tell if they were all one or many separate ones; the protrusions appeared as if they were an array of black geometric blocks stacked on top of each other; the craft was about 4 feet high and 4 feet across; had a 4ft pipe antennae pointed downward; and had a purposeful flight characteristic, as if it were a probe traveling along.
Evidence Submitted: Sketch
Initial Action: Case opened as an CE1.
Investigation and Findings: Investigative efforts were exhausted. Case was closed.
Object Details: Unidentified