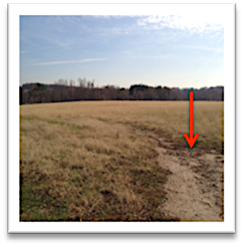 Synopsis: On 06 Jun 11, the witness of this investigation reported there were crop circles in the wheat fields near Jarrettsville Pike, close to the intersection of Blenheim Rd., North of Loch Raven watershed. Other than the location of the alleged crop circle, no additional information was provided.
Evidence Submitted: None, only location of the crop circle.
Initial Action: This UFO case was opened as an AN2, an anomaly that left lasting physical effects, such as crop circles, scorched earth, and debris.
Investigation and Findings:  The investigators traveled to the wheat fields in the vicinity of Jarrettsville Pike and took dozens of photographs of the alleged crop circles. An interview with the owner of the farm, however, concluded the markings on the wheat field where a result of farming equipment.
Object Details: Identified as markings made by farming equipment.