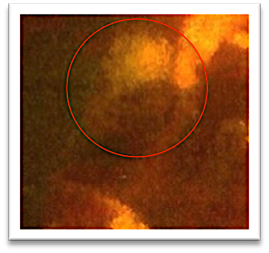 Synopsis: On the night of 02 March 12, the witness of this investigation was in a bedroom conducting a paranormal investigation. During the photo and electronic voice phenomena (EVP) session, the witness purportedly captured an image of an extraterrestrial on a camera and an EVP of a possible extraterrestrial attempting to communicate. The witness, moreover, reported that another person in the same home saw an unidentified entity in their room and a UFO hovering over their neighbor's home.
Evidence Submitted: Five photos of the extraterrestrial entity and an audio recording of the extraterrestrial's voice.
Initial Action: This UFO case was opened as a CE3 – a visual sighting of an extraterrestrial entity. Initial emails from the witness indicated pareidolia.
Investigation and Findings: The investigators interviewed the witness of this investigation on several occasions. Over a dozen emails and several phone calls from the witness indicated the witness was experiencing pareidolia and paranormal activity. Additionally, the witness indicated the home where the photo and EVPs were taken was a former funeral home. After the interview, the investigation was forwarded to several paranormal groups – who concluded in their own investigation that the entity was neither extraterrestrial nor paranormal. The investigation was closed due to lack of information suggesting the case was related to UFOs.
Object Details: Unidentified