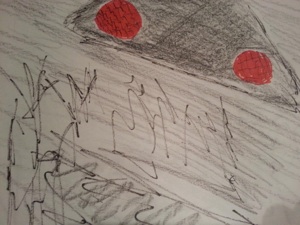 Synopsis: On 04 Dec 2012, at 1930 hours, the witness of this investigation was traveling east on Warfield Road between Germantown and Olney and saw three strange red lights. The witness stopped his vehicle, stepped out, and saw a large black triangle moving 15mph from east to west. According to the witness, the UFO was 150 feet wide, was made of what appeared as metallic, and was silent. The rear of the object had white and green lights.
Evidence Submitted: Sketch provided to investigators
Initial Action: Case opened as an FB1.
Investigation and Findings:  All investigative efforts were exhausted and the case was closed as unresolved. Investigator Note: Research regarding reports of black triangle UFOs dating back to 1980 were completed as part of this investigation. It is important to note that there were thousands of reports regarding allege black triangle UFOs. However, none of these reports, including the sketches and photos, were similar to what the witness observed.
Object Details: Unidentified