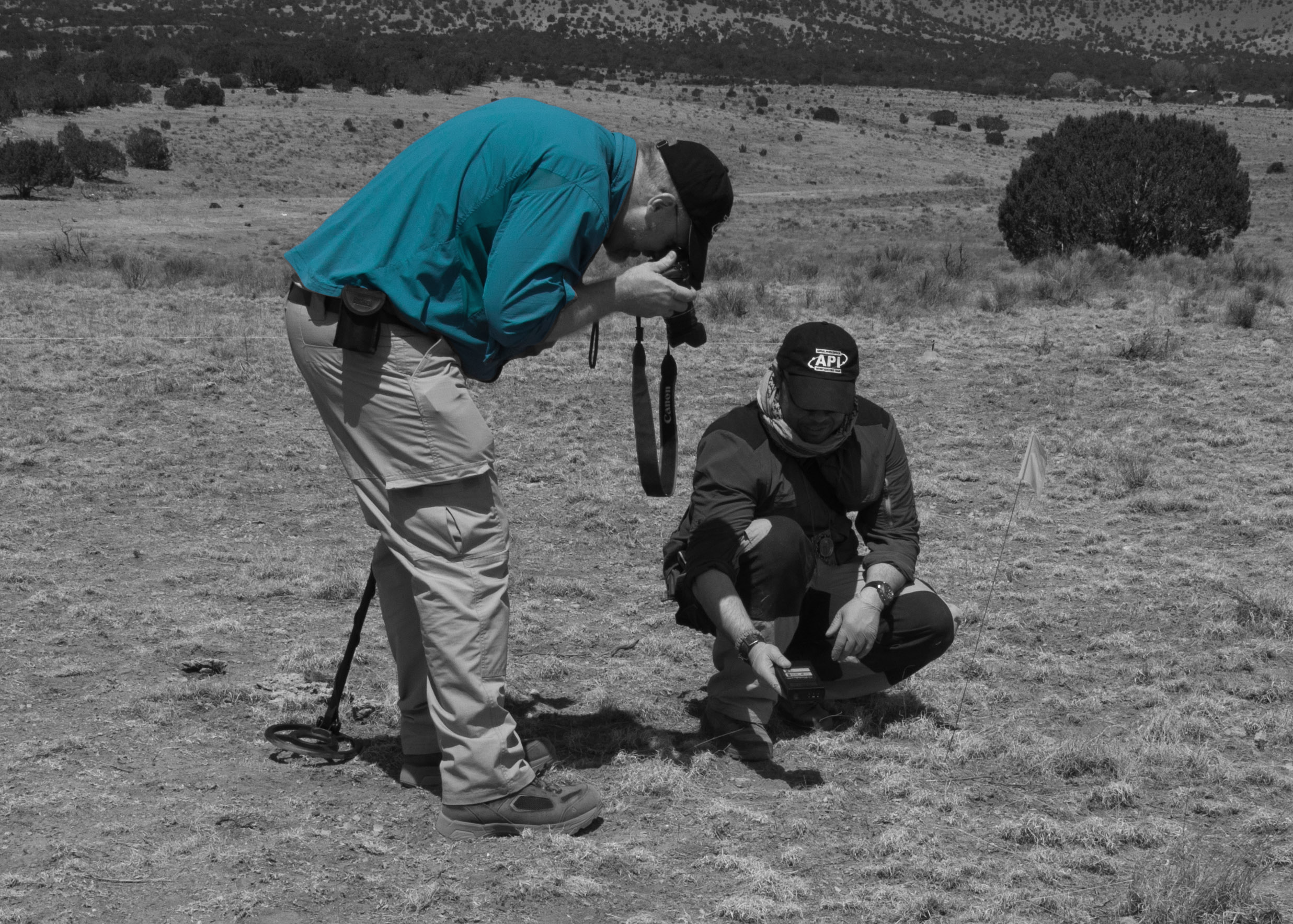 According to the British UFO Research Association, Britain's oldest UFO group, thefirst evidence of the existence of UFOs as we know them came at about 2.59pm on June 24, 1947. That's when a Mr Kenneth Arnold, while flying his plane across Washington State, saw a diagonal chain of nine mirror-bright objects moving in a manner "a saucer would if you skipped it across the water." It is believed that this description established the now well-known expression "flying saucer," which has since spawned countless books, TV series, feature films, comic books, and hobbyist groups.
But since that sighting decades ago, UFO enthusiasts haven't had the best reputation. Some groups are now trying to change that; they want to be taken seriously.
Aerial Phenomenon Investigations is run by founder and director Antonio Paris, a former US Army Counterintelligence Officer and Department of Defence Counterintelligence Special Agent. Based in Florida, his 13-strong team of UFO investigators have tried to shake off the negative connotations surrounding all things extra-terrestrial. He says that he was upset to learn that most local UFO clubs were inundated with claptrap, "such as conspiracies and pseudoscience, astral projection, hypnosis," as well as cryptozoology like the Bigfoot and Mothman myths. "I realized most of Ufology was a joke!" he said.
In a bid to silence the skeptics, Paris looks to explore the UFO phenomenon in an analytical, scientific way. His group aims to bring ufology into the 21st century by being more CSI than X-Files. Unlike other UFO organisations, they have a strict investigation protocol that enables them to conduct what they call a "case triage" to ensure they only investigate the "good" reports.
"The wider public believes in extra-terrestrial life but sadly the term UFO has become synonymous with aliens," Paris said. As a result, his group doesn't investigate the typical "I saw a light in the sky" cases. He says that the "pseudoscience, claptrap, conspiracies, and hoaxes" that pass for ufology in some parts is down to "Hollywood, media sound bites, and conspiracy groups," and that, to his annoyance, "Any mention of UFOs to the general public and their first thought is tinfoil hats."
Paris tries to distance himself from that crowd. He's a member of the Washington Academy of Sciences and a graduate of the S2 Institute's Florida Private Investigator Course, as well as the author of two books: Aerial Phenomena: Reviving Ufology for the 21st Century; and Space Science: Challenges for the Extraterrestrial Hypothesis of UFO Phenomena, and  the director and producer for the documentary Area 51: A History of this Reclusive Base.
But how do you investigate UFOs? He said that most organizations investigate anything, whereas API has particularly stringent standards. "To open an investigation, a report submitted to API must meet four of these five criteria," he explained.
1. UFO sighting must have occurred less than a year ago
2. Must have multiple witnesses
3. Must be a daytime sighting
4. Must have photo, video, or other physical proof
5. Sighting did not occur near a military installation or defence contractor installation
Paris's team includes "former Air Force pilots, NASA spacecraft engineers, NASA rocket propulsion engineers, reporters, former military intelligence officers, teachers, professional photographers, and a psychologist." He adopts the use of a wide range of equipment and teams of highly experienced personnel coupled with a strict rule system to investigate reported sightings. He also leaves a digital trail wherever he goes, posting videos, reports, and case studies online.
The API have even produced a 50-page guide to help other would-be investigators through the process of interviewing witnesses, performing scene re-enactments, and conducting research on weather patterns and radar analysis. This how-to guide gives budding investigators DIY field training based on Paris's belief in a "scientific approach" to ufology.
There are also groups in the UK that, like the API, are seeking to bring a little more credibility to ufology. After all, this interest in the unknown has captivated people around the world. The Birmingham UFO Group (BUFOG) claims to be one of the most active groups in the UK. It was established in 2007 and has been chaired by black sunglasses-clad lead investigator Dave Hodrien since 2008.
Over the years, BUFOG has investigated UFO sightings across the country, from strange lights in the sky to "fast moving objects in the air." These are also referred to as "contact cases" by the ufology industry, and Hodrien has conducted investigations on behalf of other groups that don't have the scientific know-how he claims to possess. "Ufology attracts dis-information from the press and media, and often receives ridicule from the general public," Hodrien said—which, according to him, means witnesses often keep quiet and makes investigating more difficult.
Across the board, it's clear that Paris's criterion number four—filmed proof—is increasingly important. Mark Bayley, who runs the Southend UFO Group in the UK, said that "the advent of camera phones and camcorder technology has meant a massive upsurge in filmed evidence." He claimed that some of the objects he's witnessed through his own investigations on video "seem to be under intelligent control."
Original article at Motherboard