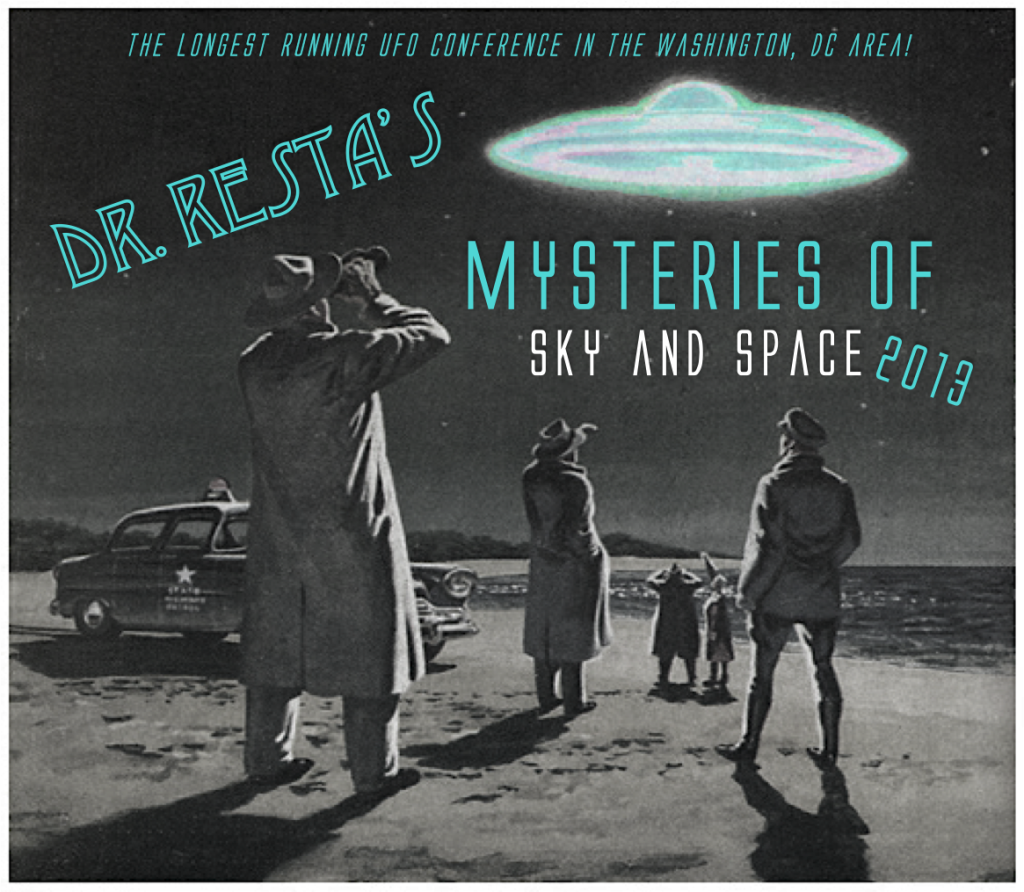 The Annual Mysteries of Space and Sky UFO Conference is set to take place in Annapolis, MD on October 26th, 2013. This is the longest running UFO conference in the Washington, DC area. Antonio Paris, per request, will attend the conference and is expected to talk about his new book, Aerial Phenomena: Reviving Ufology for the 21st Century. For more information and tickets, visit Mysteries of Sky and Space now!
Agenda is Confirmed:
8:30:

Antonio Paris:

 Antonio is becoming a real "mover and shaker" in UFOLOGY, as he attempts to restore scientific respectability to the field! As Director/Founder of  Aerial Phenomena Investigations, he recently organized the highly successful & innovative UFOCON '13, and has personally investigated some of the more enigmatic UFO cases extant.  Antonio will share his dream of resurrecting UFOLOGY to a new and exciting, yet more respectful level. He will discuss "Where are all the Aliens? Tough Questions for Believers".
9:30:

Norman Gagnon:

MUFON STAR Team Investigator and researcher into  some of the most "high strangeness" cases in UFO history. Norman has appeared on the Discovery Channel, and will update us on the fascinating Chris Bledsoe UFO/alien encounter which was featured on national television.
10:45:

Susan Swiatek:

Currently serving as the Virginia State Director for MUFON, Susan has been an invited speaker on anomalous phenomena in a host of venues, including  on the nationally broadcast "Coast-to-Coast AM" radio program. She has played a major role in the success of past "Mysteries" conferences, and organized the highly acclaimed 1999 International MUFON Convention.
1 p.m:

Bob Swiatek:

Rob is without question one of the most respected and knowledgeable UFO experts in the community! His assessment of the July, 1952 Washington. D.C. "saucers over Washington" flap is possibly the most thorough and accurate record of this milestone event ever presented! Rob has appeared on many national radio and TV shows, including Larry King Live, where he received many accolades for his "defense" of Ufology.
2 p.m:

John Ventre:

John was recently thrust in the national spotlight after his appearance on the Anderson Cooper TV special on UFOs, and was subsequently featured on other UFO documentaries. He has published several books, including "UFOs Over Pennsylvania" and is the MUFON State Director of Pa., and an extremely popular speaker.
3:15 p.m:

Col. Thomas McCabe (Retired: USAF Reserve):

Tom, a "former believer in flying saucers turned sympathetic skeptic", is a relative newcomer to UFO conferences. He is a career military aerospace analyst for U.S. Dept. of Defense, and his writings have appeared in a variety of publications, including "Air and Space Power Journal,"   "Orbis,' "Space News" and "Strategic Review." His monograph, "China's Air and Space Revolutions" was recently been published by the Mitchell Institute of the Air Force Association. In the spirit of being "fair and balanced," Col McCabe will offer a critical evaluation of the saucer phenomena, and has agreed to  participate in a debate on UFOs (to begin immediately after his presentation).
5 p.m:

Dr. David Jacobs:

Many do not realize that Dr. Jacobs, widely known for his views on "alien abduction," also wrote a seminal work on UFOs: "The UFO Controversy in America." in fact, David has graciously agreed to debate the aforementioned Col. McCabe on UFOs at this conference! However, he will also share his reflections on his best selling book, "The Threat," fifteen years after its publication.
Click here for Tickets! Mysteries of Sky and Space
Venue Information:
UFO Conference
Bowie Elks Lodge (Near Annapolis Mall)
1506 Defense Highway
Gambrills, MD