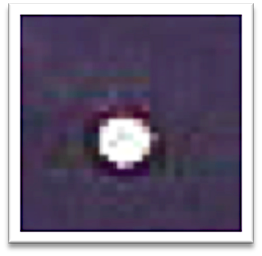 Synopsis: On 12 May 12, at 2130 hours, an infrared camera took a photo of a UFO near Grimsby, UK. The UFO was captured on a Forscam infrared webcam mounted on the roof of the witness' home.
Evidence Submitted: Infrared video footage of the UFO.
Initial Action: This UFO investigation was opened as an AN1 – an anomaly that left no lasting physical effects, such as lights in the sky and similar phenomena. A preliminary analysis of the photo indicated the UFO was more than likely an insect captured on the webcam.
Investigation and Findings: The investigators conducted multiple interviews with the witness of this investigation. The investigators, moreover, conducted open source research for orb related activity in the Grimsby, UK, which resulted in finding an abundant number of photos and videos of orb activity in England. However, no explanation, other than Chinese lanterns, for these sightings were given. The investigators, therefore, attempted to shape the investigation towards an optic or perhaps an insect as the culprit. According to research, most orbs are typically circular artifacts that occur in flash photography—sometimes with trails indicating motion. Orb artifacts are captured during low-light instances where the camera's flash is used, such as at night. Moreover, purple fringing (sometimes called PF) is the term for an out-of-focus purple or magenta "ghost" image on a photograph. This defect is generally most visible as a coloring and lightening of dark edges adjacent to bright areas of broad-spectrum illumination, such as daylight or various types of gas discharge lamps. The investigators however could not conclude the orb was a result of PF. The investigators, therefore, contacted the UK Royal Entomology Society to determine if they could identify the object as a possible insect. It was the opinion of the Royal Entomology Society that the orb could not have been a known insect. The investigative process was exhausted and the investigation was closed as unidentified.
Object Details: Unidentified